Dealing with Emotions After Breast Cancer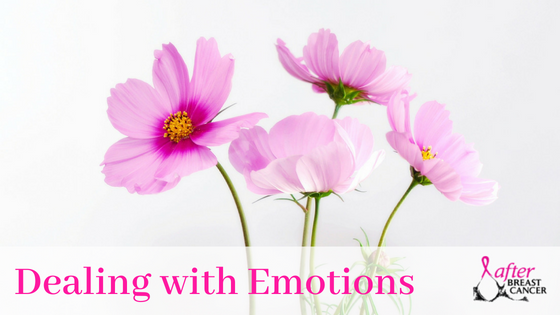 I want you to start by giving yourself permission to feel. You may be reading this because you are not sure how to navigate your emotions after breast cancer or how you should be reacting to your breast cancer story. Some people feel confused, angry, fearful or even relieved at having a label on what may have been a long diagnosis. You may feel defeated or powerful or even a mixture of every emotion. Above all, there is no right or wrong way to feel in this moment. Whatever you are feeling, this is your journey, so give yourself permission to feel.
The Effects of Breast Cancer on Emotional Processing
Breast cancer is a major stressful event but it's a part of your journey and not what defines who you are. There appears to be more out there about how to deal with the physical symptoms of breast cancer.it may be difficult to find resources explaining how you navigate the emotions after breast cancer. This element of your path is vital as your coping mechanisms to stress can have impacts on your health. Consequently, finding ways to express and deal with your emotions after breast cancer add a layer of protection which helps you along the way to healing. The most important thing I want you to take from this post is that no one can tell you what you should be feeling but you must give yourself permission to feel. If we look at the research, avoiding or suppressing emotions has shown to be linked to higher distress, anxiety, and depression in breast cancer survivors. Stress itself also affects cognitive functioning (such as memory and learning) as well as the ability to process emotions.
Emotions After Breast Cancer Diagnosis
Following your diagnosis, you may be overwhelmed that every part of your life has suddenly changed. You may experience very strong emotions at some time and at other times you may feel numb to emotion. Again, give yourself time to process and do not be afraid to express your feelings. There are no right or wrong emotions after breast cancer but some of the thoughts and feelings others have shared that they felt during diagnosis include:
Shock when receiving the diagnosis
Fear of dying or of permanent physical changes
Anxiety based on the unknown or of the breast cancer treatment process
Anger - feeling that it's unfair that it happened to you
Concern or worry over how it may affect your family
Uncertainty about how to plan for your future
These feeling can also be positive such as a sense of relief at having finally received a diagnosis and knowing that you are going to get treatment. Remember, you are in control of who you share the news of your diagnosis with. To begin, you may only want to share the news with a couple of friends or family members who are close to you. If the emotions you are experiencing seem intense or overwhelming, you may want to take time to process your feelings before telling others. Taking this time to think about it, may help to identify what kind of support you need from friends and family during this time.
Emotions During Treatment
Treatments may last over many weeks or months depending on the treatment plan that you and your healthcare team decide on. There are no right or wrong emotions after breast cancer but some but some of the thoughts and feelings others have shared that they felt during diagnosis include:
Anger and resentment - asking questions like "why me?"
Anxiety and fear about the treatment itself and possible side effects
Fear that your treatments will not be successful or that cancer will come back
Shame or guilt that you have cancer and the effects on those around you
Guilt having to ask family and friends for help or that you are letting them down
Sadness or depression from a sense of hopelessness over the situation
It's normal to experience an array of emotions after breast cancer as you move through each stage of treatment. For example, having surgery is a different experience than having chemotherapy. You also have to remember that how you respond to completing each stage of treatment is unique to you and may change on a day to day basis. Some people prefer to quietly reflect on your experience whereas some people prefer to celebrate each stage of finishing treatment. You may be worried or anxious about the next stage or feel relief about finishing the stage. Your healthcare team are there for you and sharing your feelings or concerns with them will help them understand how best to support you.
Self-Care Suggestions
You do not have to face the challenges of breast cancer diagnosis and treatment on your own. You are not alone and many other people have gone through cancer treatment and are now able to return to the lifestyle they enjoyed before diagnosis. So, do not hesitate to ask your health care team for referrals to social workers, psychologists, counsellors and other recommended support services at any point in your journey.
Identify your Support Network
You should also seek support from someone you trust during this time. You may find it helpful to talk to a trusted loved one about what you are feeling. Oftentimes your loved ones will want to support you but may not know what you need. You may find it difficult to ask for help but try starting with something small such as asking them to help prepare a meal, pick up some groceries when they do their own or take care of your children when you have a treatment day. Finding someone who has been through breast cancer themselves may be able to help you navigate your own emotions after breast cancer. Peer supporters offer support to others who have been newly diagnosed or are going through breast cancer treatment. Another good resource is support groups who are usually led by a mental health professional and are made up of women who have experienced breast cancer and meet regularly to talk. These are a great way to give you a way to express your thoughts and feelings, ask questions, and learn coping strategies with your diagnosis and treatment from those who have been there themselves.
Take Care of Your Physical Health
Taking care of your physical health will help support both your mental and emotional health. Ensure you are eating nutritious foods and getting enough sleep. You know your limits but keep as active as you can manage.
Know Your Limits
Talking about your feelings and expressing your emotions is important. However, it's just as important to let people know when you would rather not talk about breast cancer. Share as much as you are comfortable with. You may find that people will tell you to "be more positive." Although the heart behind the message is good, you do not have to force yourself to fake positivity. Your emotional response to your diagnosis and treatment is your own choice and there is no right or wrong way to feel.
Take Time for You
Certainly set time aside for yourself where you do activities that you enjoy. Simple relaxation techniques such as deep breathing, visualization, or meditation may be something that works well for you. Taking time to be mindful of your experience and what you are feeling and experiencing. Likewise, you may want to spend time doing something creative, meeting with friends or going for a walk in nature. Remember to reach out to your healthcare team if you are concerned about your emotions after breast cancer or find they are affecting your day to day activities. They can help you navigate the difference between typical responses or mental health concerns. Concerns such as anxiety and depression may need treatment. after BREAST CANCER focuses on the women who have survived, women who don't have insurance, women who cannot have their basic needs met after a mastectomy or lumpectomy surgery. If you need support, please we're here to help you.
Read More