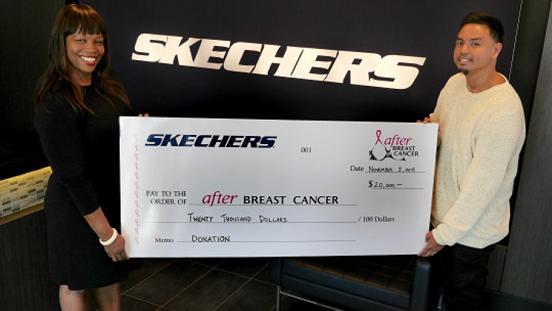 after BREAST CANCER is overjoyed by the incredible support from SKECHERS Canada! It's companies like SKECHERS that truly make a difference for breast cancer survivors and help make a difference one woman, one survivor at a time. This was especially the case when SKECHERS Canada presented after BREAST CANCER with a cheque for $20 000 on Nov 3, 2015!
Thank you SKECHERS Canada!
We had the pleasure of speaking with Cris from SKECHERS Canada. Read below to hear why they decided to support ABC, how important it is to give back and what they see for the future:
Tell me a bit about SKECHERS Canada and your team:
SKECHERS was founded back in 1992 in Manhattan Beach, California. SKECHERS Canada officially opened its offices in 2003. Since then, our team has grown considerably with our staff having nearly doubled in size in nearly 13 years. We pride ourselves on the diversity of our group, and the corporate culture is one of a tight-knit family.
How did SKECHERS get involved with giving back to the community?
For years, SKECHERS has been actively involved in giving back to communities around the world. As a global company, we've provided funding to various charities, including several cancer-awareness organizations.

How did you hear about after BREAST CANCER and decide to partner with after BREAST CANCER?
We began exploring Canadian breast cancer charities a few months ago in search of the right fit for our fundraising efforts. In years past, SKECHERS has contributed to various charities with a specific focus on breast cancer research. We landed on after BREAST CANCER because its mandate to help breast cancer survivors really spoke to us on a personal level. Breast cancer has affected all of our lives in some capacity and it's difficult to imagine having to battle this disease and not being to able to afford basic resources after your treatment.
Through your donation to after BREAST CANCER, what changes (benefit) does SKECHERS hope to see?
We want to shine the light on those who have bravely fought breast cancer, and honor them. Our hope is that all breast cancer survivors will never lack basic resources once they've completed treatment.

How do you see the future of breast cancer?
With all of the research being conducted worldwide, we're hopeful that a cure will be found. In the meantime, organizations like after BREAST CANCER will continue to do their part in helping breast cancer survivors move on with their lives.
Breast cancer has a very close knit community. Were you expecting so many people to share their messages on the tribute wall at the Women's Show?
When we first discussed the concept of the Tribute Wall, we were initially concerned that our vision was somewhat ambitious. We were picturing a wall full of inspiring and heartwarming messages. But halfway through our first day at the Women's Show, we soon realized that there was no need for concern. The Tribute Wall turned out exactly as planned, and the name we chose for it was quite fitting!

We are so thrilled and so grateful to be partners with SKECHERS Canada! It's truly amazing to have such a great community partner help us continue to help breast cancer survivors. Together we will make a difference and help breast cancer survivor get the new mastectomy bras and prosthesis they need to regain their quality of life. SKECHERS Canada – you have made life brighter and beautiful for many women. Thank you SKECHERS Canada!
Read More