Ways to get Involved with after BREAST CANCER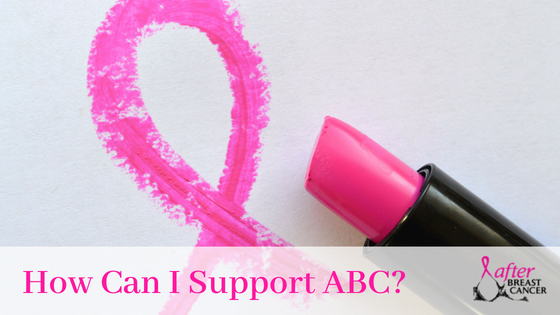 On average, 72 Canadian women were diagnosed with breast cancer every day in 2017.
In 2017, an estimated 26,300 Canadian women were diagnosed with breast cancer. This represents 25% of all new cancer cases in women in 2017. after BREAST CANCER has provided over:
1550 post-operative mastectomy bras and mastectomy camisoles as well as
886 breast prostheses to 495 women across Canada.
There is a gaping lack of resources in the community for the women who have survived breast cancer, whether that be because of financial strain or no insurance.
Our mission is to make sure that women have access to basic necessities after breast cancer. With support from the community, we provide bras and breast prostheses to women who are financially unable to afford them themselves. The majority of breast cancer organizations focus on Research & a Cure for Breast Cancer. As survival rates improve, additional resources that support a woman's quality of life after breast cancer are necessary to help women with the numerous issues that come up during and after treatment. Many women must decide between what is considered "essential" -- rent, food, children's' needs -- and what is also vital for a post-cancer life: camisoles, bras and prostheses. It is, unfortunately, a choice that too many women must make. Such circumstances can cripple a woman's ability to re-enter society with a sense of dignity and regain her sense of control, something every woman loses when diagnosed with breast cancer. We want to help as many women remedy this devastating situation as possible.There are so many ways you can help support women to thrive after surviving breast cancer. Here are some examples of ways you can help:
1) Donate:
Through our charity, we support women in healing and this support requires community partnerships and considerable financial investment. All contributions are spent on supporting this very vital undertaking. There are many ways you can help support our initiatives to bring back women's self-esteem after breast cancer. Your generous donations will help us buy bras, camisoles and breast prostheses, giving women a renewed sense of femininity and worth. GRADUATE KITS: Each graduate receives up to three mastectomy products -- bras and/or camisoles -- and a single breast prosthesis or double breast prostheses depending on an individual's needs. Graduates in the GTA who enter our S|HE THRIVES program receive a personal one-on-one consultation fitting with a certified bra and breast prosthesis-fitting specialist. Every dollar you can afford to give is much appreciated and will go a long way toward supporting our programs. Donate today!
2) Donate your old car to after BREAST CANCER!
after BREAST CANCER has partnered with Car Heaven to help raise money for 'Graduate Kits', while simultaneously safely recycling old cars in Ontario. Here is how you can participate:
Read & Approve Terms & Conditions
Provide Car Heaven with some details about your vehicle
Tell Car Heaven when & where they can pick up your car
Choose After Breast Cancer as your charity of choice
Confirm submission
3) Give Bras & Breast Prostheses
Your donation of NEW mastectomy bras, mastectomy breast prostheses or mastectomy camisoles will go directly to women in need, empowering them to regain their self-confidence as they start the journey of re-establishing their former quality of life. Please mail, or drop off your new bra, new breast prosthesis or new mastectomy camisole at: after BREAST CANCER 1292 St. Clair Avenue West Toronto, ON, M6E 1C1
4) Attend an Event:
Our annual Pink Diamond Fundraising Gala is the city's most stylish event in support of after BREAST CANCER and S|HE Thrives programs. To check out other events coming up - check our upcoming events calendar!
5) Shop:
after BREAST CANCER is selling products in support of our efforts to eliminate stress from women's lives as they thrive from breast cancer.
6) Volunteer for After Breast Cancer:
ABC relies heavily on the support of our volunteers. We'd love to have your help as well! Volunteers may be asked to participate in any number of ways depending on their desires, skill set and resources. Please send your resume or bio to hr@afterbreastcancer.ca. Together we can help graduates of breast cancer.
7) Fundraise for After Breast Cancer:
Our independent fundraisers are crucial to our work. We couldn't support breast cancer graduates without your help. There are many different ways to fundraise for after BREAST CANCER.
Athletic?

Organize a Walk, Run, Marathon, Triathlon, or a Hike within your community. Ask your friends and family to join to support a great cause! Try hosting a yoga workshop if you're more laid back.
Host a bake sale or potluck.

Tired of the same old bake sale? There are plenty of different ways to plan a food fundraiser. Have a BBQ Grill-Off! Try a pancake breakfast or a spaghetti dinner! Throw a cooking class fundraiser - or a wine tasting event.
Artistic?

Partner up with a local restaurant, pub or bar and host a 'Paint Night' or 'Plant Night'. Ask for small donations instead of an entry fee. Make sure to invite everyone and to tell them what cause it's supporting! Have another fundraising idea in mind? Get creative and make your own event!
As we continue to grow, the S|HE THRIVES program, this year alone, will support an additional 125 breast cancer graduates from across Canada.

We firmly believe that all women, regardless of demographic, race, religion or financial means deserve a better quality of life. Through our charity, we support women in healing and this support requires community partnerships and considerable financial investment. All contributions are spent on supporting this very vital undertaking. Your generous gift will help us continue transforming the lives of breast cancer "graduates" who cannot afford the necessities required post-surgery. Together, we can help graduates to not only survive but thrive.
Read more:
Read More