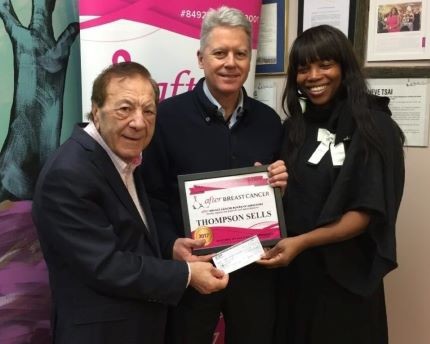 GIVING BACK TO OUR ETOBICOKE COMMUNITY
Even when someone survives cancer, it's not the end of the road. In particular, breast cancer survivors need continual support, which also costs money that many simply can't afford. That's where after BREAST CANCERcomes in. As stated on their website:
"Surviving breast cancer can take a lot out of a woman—including their self-esteem and sense of inner beauty and worth. There are very few programs that help women after they've gotten through cancer treatment. after BREAST CANCERis there for breast cancer graduates who cannot afford to meet basic needs or purchase a proper mastectomy bra and breast prosthesis after mastectomy or lumpectomy surgery."
This wonderful charity was founded by Alicia Vianga. As a certified bra and breast prosthesis fitter and lingerie store owner, she recognized a serious need. Survivors with no insurance were either forced to pay out of pocket for things like mastectomy bras and camisoles and breast prostheses or simply make do without. Alicia and her team have been helping breast cancer survivors feel beautiful and confident since 2013.
How We Help after BREAST CANCER
As you can see, this charity is doing some wonderful work assisting breast cancer survivors in our Etobicoke community and beyond. Here's how we've been helping them along the way.
Giving Back to the Etobicoke Community
The ThompsonSells team donated a cheque to the Afafter BREAST CANCERganization in December. As a thank you, we were presented with a Certificate of Appreciation from the Board of Directors.
Participating in the Pink Diamond Gala
The Pink Diamond Gala is After Breast Cancer's signature fundraising event. For the past two years, we've had the pleasure of sponsoring and attending this event. Here, we've heard from experts in the field of oncology and cancer research who brings us up to speed on the most recent developments. Combined with celebrity presenters and performances from award-winning singers, this has been an informative and exciting event.
Fundraising for the Organization
Fundraising events are a great way to raise money for any charity. However, they also gather people together in a fun environment and raise awareness about the cause. What's more, they provide an excellent forum for starting conversations about how we can help even more.
Our Neighbourhood Mother's Day Celebration last year was a fun day out for mothers and families from the neighborhood. We had face painting, balloon twisting, floral gifts, and the hit of the day — an ice cream truck! It was also a day for remembering those lost to cancer or suffering from the disease. We raised awareness about the constant struggle of survivors and collected generous contributions for After Breast Cancer.
Read More