ABC featured on HOLR magazine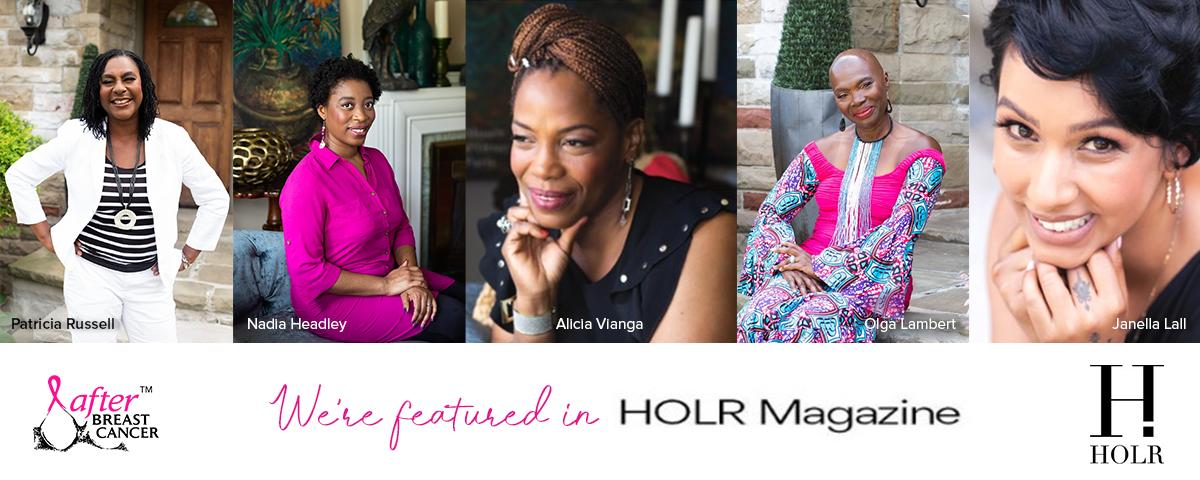 This month, HOLR Magazine released its newest issue, and our founder, Alicia Vianga, wrote a moving article for publication.
In the article, Alicia and ABC Ambassadors Patricia Russell, Olga Lambert, J. Nadia Headley, and Janella Lall discuss the disproportionate rate at which Black women are affected by breast cancer.


Their discussion centered on how, following their diagnoses, Black women face many emotional and medical barriers. Some of these can include isolation, a lack of community support, and poorly targeted treatments for patients with triple-negative breast cancer.
Black women are more likely to die from breast cancer than non-racialized women. This is a fact although Black Canadians are the third-largest visible minority, black women are often screened less often for breast cancer than other groups of women. For some, there is the cultural issue of seeing male doctors who might order mammograms. When screened, many black women are diagnosed with breast cancer at an earlier age than white women. And the types of breast cancer, particularly triple-negative, that afflict the black community—especially women from West Africa—also tend to be more aggressive and do not have target treatments. Breast cancer treatment seems to be the same, regardless of type. Patricia, a survivor, puts it succinctly, "black women are affected at a disproportionate rate. There is no targeted treatment for women affected by a triple-negative subtype." But there is another problem that is often not discussed: the taboo of speaking about cancer. It is not talked about concerning the broader general issue of breast cancer. And, to make matters worse, it is seldom spoken of when it happens to you.
The belief that cancer occurs because a person did something wrong, is a bad person, or is cursed pervades the black community. This taboo isolates the black breast cancer patient and is implicitly supported by the belief that a person should not discuss her cancer with others. Olga recalls an interaction with a family member that illustrates this taboo: "Shhh! Don't talk so loud! Nobody needs to know about our business! This is how a relative reacted after I received a breast cancer diagnostic. I quickly understood that the word 'CANCER' is taboo in my culture. Living in Canada with my mother, she never told most relatives in Africa. Some family members here never called or visited, they didn't want to be involved. Therefore, I went through my breast cancer journey in isolation from my community." Nadia explains that dealing with a diagnosis also meant a feeling of isolation. "As a young Caribbean woman of African descent, a breast cancer diagnosis was a bitter pill to swallow. My initial coping mechanism was to keep the diagnosis to myself because culturally, "you don't air your dirty laundry."
As a black woman, having breast cancer can leave you feeling alone during the treatment when the majority of women around you do not look like you. When you read medical materials it usually does not focus on women of color. This isolation also makes it difficult for black women to advocate for themselves during the long struggle of breast cancer. Many feel they cannot advocate for themselves as a racialized woman in the medical system. But that is not how it needs to be as Janella writes, "the challenges I faced as a young racialized breast cancer patient were more along the lines of advocating for myself and being brave enough to ask the right questions. This is my journey and fight, no one else's."Screening, advocacy, a sense of community, and not isolation, are topics that need to be addressed in the Black community. Breast cancer needs to lose its stigma and stop stigmatizing those with it. It needs to be openly discussed to help women before, during, and after cancer. Education is a priority. People need to be educated not just in the doctor's office but through faith-based organizations, schools, and community organizations that work with Black communities. We need to break down the walls that leave cancer patients suffering in silence. We need to teach and educate and screen and offer genetic tests. These are just the simple ways to save black lives. To make us survivors, not statistics.
The impact from this alone is heart wrenching to breast cancer patients. In the history of after BREAST CANCER, a Canada wide charity dedicated to supporting and celebrating those affected by breast cancer, due to a surge in need and lack of funding, the plea for support is at its peak without the possibility of in-person fundraising initiatives and events
On THURSDAY, OCTOBER 15, join after BREAST CANCER in a global movement to help Shine a Light on Breast Cancer. During these difficult times, it is more important than ever to bring awareness and to support breast cancer patients and graduates, who are at odds with being amongst the most vulnerable. "We cannot do this alone; it will take a community,"
Read the article on HOLR Magazine ( Page 78 )
Read More