Jennifer's Journey - Chapter 5: You Don't Have Ta-Tas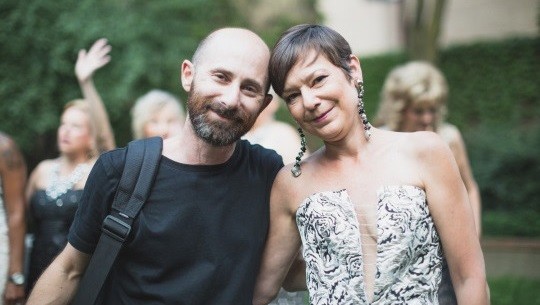 She started crying and hid under a blanket for 10 minutes. I just sat there, letting her cry and feel her emotions. Then, figuring that was enough time, I pulled the blanket off her and restarted the conversation.
I reminded her of two very dear people who are close to her—one male and one female—had gone through breast cancer and survived. I reminded her that both people were healthy again and cancer-free. But, they are not mommy. They are not the person who is supposed to bring her to adulthood and guide her even if she kicked and screamed all through her teenage years. She saw mortality—mine—for probably for the first time.
I then put it to her as bluntly as possible: "I will be taken out by a TTC streetcar before this kills me." That become my mantra with her through this long process.
I wanted her to come with me to get my hair buzzed off before I lost it to chemo but she would not. I think, in hindsight, just the same as I did then, she could not. I was hoping to make her laugh yet she did not find any humour in this. I did but that is another story (a story of clippers, a flagon of beer and a barber who made that experience the best possible and it was a very funny and fun experience that allowed me to have control over losing my hair). Anyway, back to Jr. She was with me the night after my first chemo and I had no idea how it would hit me. It was New Year's Eve (15 days after diagnosis) and I could not stay awake. I think it really sunk in for her that night.
As I went through chemo, my goal was to show her perseverance. Even if I was tired and my legs ached from the combination of chemo and Neuprogen, I made sure we did something, that we went out even if only for an hour or two. I wanted her to see that carrying on as normally as possible was not only a strategy for life in horrible circumstances but almost an act of defiance. Having written that, if I could have taught her anything in those months and the months of radiation and then two surgeries, it was strength is within and you can crumple or you can just keep going. After the last chemo treatment, she gave me this. And I am proud of her and her ability to make this card. And I am proud of her now, 2 years later, as she makes jokes about when I had no hair, about my "ta" as "you don't have ta-tas." I see resilience.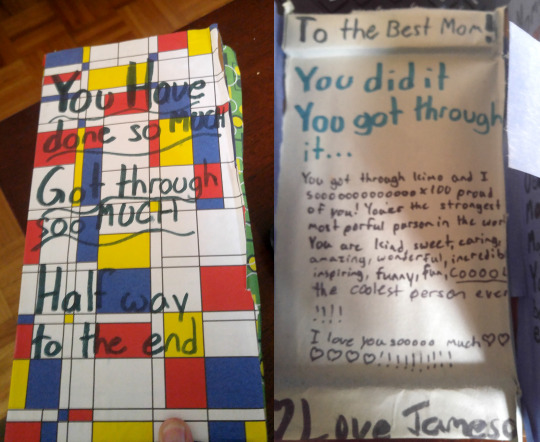 Read Chapter 6 "Lets Talk About Hair"
Read More