You Don't Know How Strong You Are Until You Have No Choice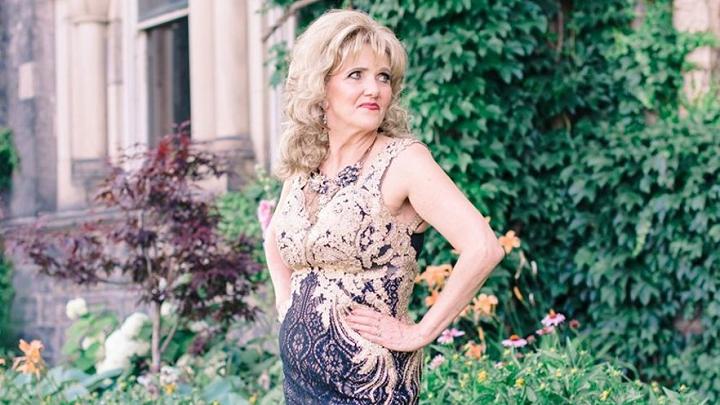 It is my honor to have been nominated to participate in the S|HE Project. I have had the opportunity to meet some
wonderful women with whom I can empathize. One year ago my life was unexpectedly turned upside down. Not only
was I devastated about my breast cancer diagnosis, but I was already supporting my brother who had recently been
diagnosed with leukemia. One year later, I was offered this unbelievable opportunity. We, as women, can feel that our
femininity has been affected. We may have lost a breast. We have lost our hair, our eyebrows, our eyelashes, and yet we
must wake up, get up, and face the world each day with confidence. The opportunity I had through doing the after BREAST CANCER
S|HE Thrives calendar photoshoot was to feel like I got back, for just one day, everything I had lost. I wore
an amazing designer gown and jewelry. My hair and makeup were absolutely stunning. I felt like a princess. I was taken
to the University of Toronto for my photoshoot. I had an amazing photographer who made me feel so at ease and a
wonderful assistant by my side cheering me on.
My dad passed away from cancer 12 years ago. I would have given anything for him to be there with me on my special
day. It is because of the strength he has given me that I have been able to remain strong. To stand tall in the group
photoshoot was amazing for me. I looked up to the heavens and said, "Dad, I did it." I know he would be so proud. An
evening reception was held in our honor with family and friends there to welcome us as the new ambassadors of after BREAST CANCER
.
This experience has shown me that there is light at the end of the tunnel. The time and effort that went into the
calendar photoshoot were beyond belief. As I descended the staircase during our introductions, I felt so proud of the
accomplishments that I, and the others who are going through this with me, have made. I couldn't have done this on my
own. I have to thank my supporters, my friends, Hearth Place, and my healthcare team for helping me to reach an
outstanding achievement.
My duty as an Ambassador for the after BREAST CANCER charity is to offer support and guidance and to relate my
experiences to other people going through the same. You can get through this. It does not mean you have to be
withdrawn from life. You will find strength and courage to battle this terrible disease if you put out your hand to your
doctors, caregivers, and supporters and say, "please take my hand and lead through this." My goal now, as I move on, is
to truly inspire other women that they can get through this with peace and harmony. Breast cancer is and will be, a part
of the rest of my life. For me, it is very important to raise breast cancer awareness by participating in local events
around the community. Whoever or whatever calls upon me, I will be there to fulfill my duty as an ambassador with
heart and soul!
I am so proud to be an Ambassador of this amazing charity. This event will remain dear to my heart and I will cherish it
forever. You don't know how strong you are until you have no choice.
I would like to thank Alicia Vianga Founder of after BREAST CANCER and all the members of this amazing organization. Your
dedication and inspiration are truly amazing I thank you with all my heart.
For digital stills and/or interviews with myself, ABC Founder Alicia Vianga, Photographers, Stylists and Sponsors, contact: Alicia Vianga 416-560-3835
For more information about after BREAST CANCER, S|HE Thrives, visit http://afterbreastcancer.ca/ Social Media Tags: #AfterBreastCancer #SHEThrives
---
ABOUT S|HE THRIVES
On Tuesday, July 11, 2017, in Toronto's Fashion District the after BREAST CANCER S|HE Thrives now in its fourth year provided a platform for ambassadors to overcome adversity and a beacon of hope for those who are currently battling the disease. ABC helps survivors, or as we like to call them, 'graduates', begin the healing process, regain their dignity, footing, and femininity in the aftermath of breast cancer.
The signature after the BREAST CANCER event shines the spotlight on 12 inspiring Graduates selected as official after BREAST CANCER ambassadors who will be featured in after BREAST CANCER's 2018 Calendar available for purchase benefiting ABC. "These graduates are powerful, their stories will move and motivate you, cancer may have taken their breast, cancer may have taken their self-esteem, but cancer does not define who they are," said Alicia Vianga, Founder of after BREAST CANCER. "Breast cancer knows no age, race, life eminence, color or sex; whether a young mother, accomplished businesswomen, a nurse, an actor, a teacher or a father, breast cancer does not discriminate."
This year's courageous 12 breast cancer ambassadors include Karen Alexander, Laurel Dougerhty, Nadia Santiago, Sita, Kathleen Mc Donell, Deborah Peniuk, Lyssa Statham, Jennifer Schultz, Joanna Chrystal, Glenda Mohammed, Joyce Perrin, and Natalie Wilson.
The S|HE project is about giving our Ambassadors an experience they will remember forever. Ambassadors enjoyed a day of being pampered, styled, and beautified, then clicked by Toronto's top photographers, followed by the Graduation Reception and the big reveal of the ambassadors to family, friends, and guests.
---
ABOUT after BREAST CANCER
after BREAST CANCER is a Canada-wide charity dedicated to supporting and celebrating those affected by breast cancer. Most people believe that surviving breast cancer treatment is the end of the battle, but in fact, it is the beginning of the healing journey. After treatment, breast cancer graduates face numerous physical, emotional, and financial challenges. Countless women struggle to re-establish themselves in the workforce, manage chronic health issues resulting from treatment, instate new healthy lifestyle habits, overcome depression, and become reacquainted with their new bodies.
RESEARCH AND DEVELOPMENT: To identify under-served areas in breast cancer survivorship that lack resources and provide evidence-based information that can facilitate informed decision-making on issues related to breast cancer survivorship.
DIRECT SUPPORT: To provide women who have no insurance and limited financial resources with mastectomy bras, camisoles, and breast prostheses at NO COST to them after breast removal surgery (mastectomy or lumpectomy).
SUPPORT FOR THE FUTURE: To provide resources that contribute to a woman's Quality of Life (QOL) after BREAST CANCER.
Read More