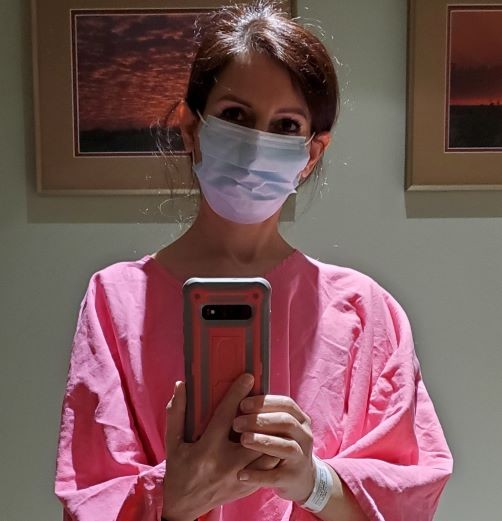 One moment, everything seems to be going smoothly, and the next, we find ourselves in the midst of an unexpected storm. Such was the case for my family in November 2022, when we received the news that my cousin had been diagnosed with an aggressive form of breast cancer. The news hit me like a ton of bricks, and I found myself unable to think of anything else. My cousin is a 40-year-old mother of three daughters. She lives in a small village surrounded by mountains and a beautiful river. She is far away from the industrialized world, pollution, and processed food. She lives in Syria, facing financial struggles and is unable to access proper medical care. Our family rallied around her, doing everything we could to support her emotionally and financially. It was a difficult time for all of us, but we knew that we had to be there for her, no matter what.
This was the second case of breast cancer in my mom's family and these diagnoses led me to reflect on my own life and health. I had always considered myself to be a healthy person - I ate well and exercised regularly. As a food scientist and university professor, I used to teach courses on food science and the connection between what we eat and our health. However, my second cousin's diagnosis was a wake-up call for me.
I decided to call my family doctor to request an appointment. During the physical exam, the doctor found a lump and ordered a mammogram. At first, I wasn't worried because I believed my healthy lifestyle would protect me. However, the mammogram revealed that the lump was suspicious, so the doctor ordered a biopsy. Until that moment, I thought I was safe from breast cancer.
Cancer diagnosis on Mother's Day
On March 21, 2022, my family doctor called with news that shattered my world. He told me that I had breast cancer. I couldn't believe it - how could this happen to someone like me, someone who had always been so health-conscious?
The timing couldn't have been worse. March 21 marks the beginning of spring in the Northern Hemisphere. It is also Navroz (also known as Nowruz), a Persian and Kurdish New Year celebration that is widely celebrated in Iran and other countries and religions in the Middle East. Navroz represents a time of new beginnings, growth, and renewal, and is often associated with the nurturing and caring qualities of motherhood.
I was busy preparing to celebrate Navroz and Mother's Day, a day that holds a special place in my heart, in the Syrian tradition. It felt like everything was falling apart at once. As I grappled with this diagnosis, I thought about the strength and resilience of the women in my family who had faced the war and breast cancer before me. I knew that I had to draw upon that same strength within myself.
Finding out about my cancer was a reminder that life can take unexpected turns. However, with my partner by my side, I made the difficult decision to keep the news from my children and family to let them enjoy the celebration. Despite putting on a brave face, inside I was consumed with fear and anxiety, desperately waiting to learn the type and stage of cancer so I could finally tell my loved ones the full story.
Waiting, feeling powerless; it was so challenging. Was this going to become a tragedy or an opportunity to grow?
Coming next: I told my kids: I have breast cancer
By Rana Mustafa
Read More