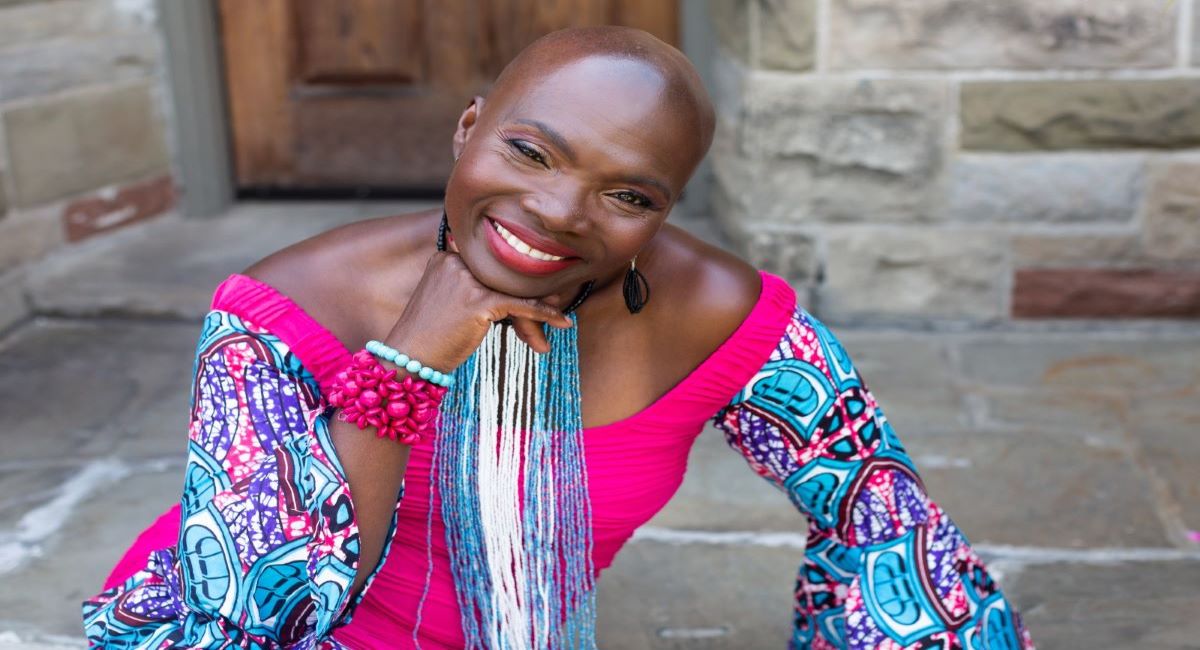 Olga Lambert, after BREAST CANCER Ambassador, continues to share her story with us. She had such profound advice and amazing storytelling that we couldn't wait to share part two to the blog! If you haven't read the first part about Olga initially detecting her breast cancer, how she felt, how the diagnosis changed her sexuality, work, and self-image, then make sure to read it, it is a true gem of a read-through!
Let's continue........
Tell me about your treatment process. Did you choose to have breast reconstruction?
I don't like being sick in the hospital. Reconstruction is cosmetic, not for health reasons. It is artificial and will never be my breast, why would I do that to look beautiful? For some women, it is the best way to get themselves back, get back their own body and true self. I applaud other women who choose that option, but it is not for me. I don't need that pain of somebody cutting me again. There is too much pain from healing, what if it starts leaking? I don't want to worry about more problems. It's been 10 years but my opinion remains the same. The other way to go about it is a prosthesis, which I am happily using. But it is critical to choose for yourself. Don't take into account the pressure of a spouse, or society, it is something personal and no matter what, you will be supported. We support each other. Unless you live through that situation, you can't say anything.
Is faith important to you?
Doesn't matter if it's spiritual or not, everyone believes in something. I have strong faith, but I am also fortunate to have been exposed to various faith, which leads me to have an open mind. You need that quiet moment to pray-either individually, or in groups. Meditation helps your mind. The more stressed you are, the more it destructs your body. The doctor kept saying that I was getting worse. Some people don't get better. It is hard, I have lost quite a few people and close friends along the way. But I put my life in perspective. "I'm still here," I said. It's because God wants me to be here. For some reason, I have accepted it. Nothing got through to me like faith. I am here for a purpose, and that makes me stronger. I'm going to be around for the purpose that God has for me.
You have to stop continually saying "I'm sick". Instead, get up and take a shower. Make some soup. It doesn't cure you, but it helps. Chemo was hard for me, but sometimes if I caught the flu, it made my body weaker which meant no visitors. I can't spend time with people, but to know that they are praying for me makes a world of a difference. I used to sing in a choir, I was diagnosed right before our December concert. People made prayer groups, they said "we're going to add your name." That made me smile, that there was so much prayer around the world, for me.
As a person of faith, this makes me really happy! It is hard enough to find your purpose within life, but finding your purpose within sickness can get even more blurry. But I truly believe God is doing wonders. Some days it's hard to see, but Olga's strategy of re-aligning her mind and taking care of her mental health is the true gift that you need to grant yourself each and every day. Because life is a gift to everyone. Every day, it's a gift.
Apart from prayer, what can a visitor do to support you?
Even a message, "I'm thinking about you, and I'm sending you good vibes, I hope you have a good day." It's those little things that help. Of course, it's not medical, but it makes you smile. And a smile is better than tears. Cells react to the positive stuff. "Am I going to be okay tomorrow?" You may have doubts, but you can't stay too long in it. I'm weak today, but tomorrow will be better.
The worst thing that you can say to someone who has cancer is, "I'm so sorry, I'm so worried for you." I don't need that. That makes it worse. I can just see on their faces that they're so sad, I was scared from their faces alone! I can't see myself, but I would get scared of the way they would see me. I don't want visitors like that.
I think if I'm being honest, this is a fear of mine I have, to always either say the wrong thing or give off the wrong impression in sensitive situations. You can get stuck trying to figure out what to say, and understand exactly how you can support your family or friend with breast cancer. But if you know yourself and your nature, you can foresee how you'd act in a situation like that, and then fashion it to cater to that same person with breast cancer. If it makes you uncomfortable and sad, just like Olga said, perhaps go with texting and calling that person frequently instead. We must keep in mind the person we are visiting because the goal of the visit is to lift up and support them, not make them even more fearful!
Were there any programs or services offered to you that would help with the treatment process?
On my first diagnosis, before being introduced to ABC, The Breast Cancer Society was really helpful. Stress balls helped me move my arm since it got a lot of pains from the removal of the lymph nodes during the breast cancer surgery. They helped me get the rehab that I needed.
There were also financial seminar services to prepare you to go back to work.
Around the same time, I was introduced to The Hearth Place which had group therapy, full of exercises, as well as mental support. We would talk about this disease, we needed to talk about it. It helps to know that you're not alone, you can go to a center. Exercise as a group is greatly needed. Even walking together, you make new friends! Sometimes it can feel like you're annoying your family, but when you are with people who have been through it together, there's more understanding there. It's different: they will listen, but also sympathize. We're cancer sisters. There's an amazing bond there.
Today, I can also add ABC which has been providing services and programs that I did know about a few years ago on my diagnostic of Breast Cancer.
What message would you like to provide women in the community? What advice would you have for newly diagnosed women?
Never isolate yourself, and never blame yourself. "Why did I get cancer? Was it because of my drinking? My eating habits? My stress?" You did nothing wrong. It is just a sickness, it can be taken care of. It's all about your own attitude. As hard as it is, you have to be positive. Give yourself a goal that you can cling to. Like you want to hit your thirties, forties, fifties. A lot of people are cheering for you.
Also, read books or watch movies that are fun to get your mind off it. Don't intentionally watch sad movies, go out in nature, take a walk, observe the water, do everything you can to get your mind out of sadness.
It's so important to get out of your head when you find yourself in a position where you've got nowhere to go but overthink. You have control over your mind, and sometimes even if negative thoughts wander, your character is tested when you redirect those thoughts into new heights. Always up, onward, and toward the sun! Because the way we react to things says a lot about who we are! I like that Olga kept pushing herself and distracting herself from herself. Wallowing in sadness will get you nowhere, you must push yourself to be proactive! And of course, these things are easy to say and incredibly harder to do but try. Keep trying.
Why are you an ambassador for breast cancer? What does it mean to you to support after BREAST CANCER?
after BREAST CANCER was a whole new world for me. In general, in my ethnocultural community, people don't talk about breast cancer, it's almost a taboo subject. People don't tell people about their cancer, they isolate themselves and keep it secret to their community and to others. I want to be a spokesperson to break that stigma. I'm a very open person, and my goal is to talk about my journey amidst minority communities.
after BREAST CANCER brought me happiness. ABC members nominated me to be on the organization calendar in 2017. I had said " WOW". This is exactly what I wanted to be for people, to give them a reason to celebrate themselves. It is my passion to volunteer. I want to educate people and tell them it's okay to be proactive. Don't wait for a diagnosis. Make sure to check yourself. If something doesn't feel right, check it. The breast on my lump didn't hurt, but if I wouldn't have caught it (even as late as I did), it would have hurt me. These are the small things we encourage people to do. But also if you don't have cancer, you can still talk about it, you can still speak about preventative measures.
I would like to reach after BREAST CANCER. ABC founder and volunteers who open up their hearts, resources, make-up, food, help improve your body image and your well-being. ABC offers so much after you have dealt with the surgery and treatment! I want to let people know that your wellbeing doesn't get limited because of breast cancer. You are here, you need to move on. Everything doesn't have to stop. I volunteer with ABC to educate women on what a breast prosthesis is, how to select and buy a bra at the after BREAST CANCER boutique and to explain to them how that simple change can make you feel good in your body. Breast Cancer patients are so happy when they wear a bra again. It's that joy, that smile, their face the first time they try the bra on, that really makes a difference. I love seeing those smiles.
The goal is to make your life better while navigating the breast cancer journey. That is what after BREAST CANCER is all about.
What would you like people to know about you?
It might be strange to hear, but I enjoy life. I'm always looking forward to something.
Olga had said how much she wanted to meet me over tea, and know the little things about my life, my ambitions, my goals, and my life. I was blown away by her sweet personality and her kindness. I haven't talked to anyone quite like her, she is one remarkable woman.
I'm looking forward to finishing treatment again as I am going through cancer for the third time in 10 years. I want to get back to myself, to volunteer—which I love to do— to watch my children finish university; it's all in the small goals. As hard as it is the third time, I remain positive that I'm going to get through it. I'm so grateful after BREAST CANCER for always cheering me on and for the hundreds of people who are praying for me daily. I look at my boys, and I am thankful for young people. I admire them, people, your age, always having one thing or another to teach me. I need to be healthy to hang out with young people. after BREAST CANCER is always here for me and the support group of friends I've made, continues to motivate me.
Olga has changed the way I see the world, and I mean this truthfully and honestly. She is the most positive person I have ever talked to, and I admire her. I admire her for being so open in divulging what was going on in her mind and trying to overcome those hurdles. Being vulnerable, opening up about emotional wellbeing, and life's hardest moments isn't easy.
But it's people like this that make history. One person inspires another. And then you share that story to another and watch that seed get planted in people's hearts and before long, an entire community is alive and blossoming, willing and ready to root each other up. A community like after BREAST CANCER. And YOU have the potential to make it even bigger.
Be the light, water the seed by sharing this story, you don't know how much humanity can thank you for it.
Read More