S|HE Thrive Calendar - 2015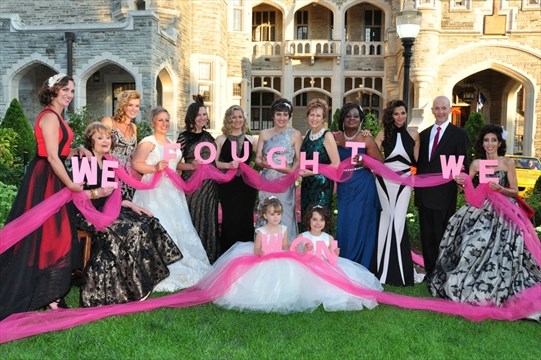 In the three years since Etobicoke's Lynn Manwar was diagnosed with breast cancer, she's undergone numerous surgeries and weeks upon weeks of chemo and radiation therapies – an ordeal she said not only stripped her of her energy but also robbed her of her sense of beauty.
On July 15, thanks to the S/HE Thrives calendar project, Manwar and 11 other after BREAST CANCER ambassadors had that sense of beauty restored to them courtesy of a full day of pampering by a team of celebrity stylists, designers, hair and make-up artists – all in preparation for a glamorous photoshoot on the scenic grounds of Casa Loma.
"Doing the photoshoot, it was all glam and glitz. It was great to be pampered, to dress up, and to look beautiful again because, in the last three years, I've been completely bald twice and partially bald once; and I've gone from 165 pounds to 190 pounds in 2012, and now I'm down to 104 pounds," said Manwar. "So, it was great to feel beautiful again, even though I'm this thin now."
Manwar, a member of the Rotary Club of Etobicoke, was just one of four Etobicoke breast cancer survivors to act as ambassadors/models for this month's second annual S/HE Thrives calendar photoshoot – a fundraiser for after BREAST CANCER, a charity founded by Etobicoke's Alicia Vianga.
Other local survivors who participated in the project this year include Diane Dupuy, founder of Famous People Players, Seema Gill and Susan Fulford.
All money raised from the sale of the S/HE Thrives calendar, Vianga said, will support after BREAST CANCER's mission to provide breast cancer survivors in need with free prosthetic breasts and specialized bras.
"For those that don't have the money or insurance (for a prosthesis), they often walk out feeling even more defeated, so I started after BREAST CANCER to make sure I am able to provide my services to everyone," said Vianga, a certified bra and breast prosthesis fitter and owner of Premier Jour Fine Lingerie & Swimwear. "Basically what I try to do is make breast cancer survivors feel and look beautiful."
Now in its second year, Vianga said the aim of the S/HE Thrives fundraising calendar project is an extension of that same goal: "I really wanted to showcase some of these brave ladies and to show that just because you have breast cancer doesn't mean you stop living. A lot of the time, breast cancer strips away women's sense of femininity and their sense of who they are. But you still need to feel beautiful and sexy."
For Gill, 39, the S/HE Thrives experience was one in which she was not only made to feel beautiful but was also able to bond with her new "sisters" in survival.
"It was so nice because you meet all these other women who are going through it, who have gone through it. And they all have deeper stories that go along with their experience and that you can relate to your own," she said. "So, it was a nice feeling to know that you have now sisters that you can talk to and who can understand you at another level."
Diagnosed in 2011, just a year after the birth of her first daughter Tarah, now four, Gill said that after her lumpectomy and preventative rounds of chemo and radiation therapies, she was advised by doctors that her chances of having another child were slim.
Nevertheless, Gill and her husband Deep gave birth to their miracle baby, daughter Niyah, now 11 months, last year.
"I feel healthy. I feel great. I do a lot more meditation, and I'm more spiritual now," she said, adding that she wanted to participate in S/HE Thrives so that women currently battling breast cancer could see the calendar, read her story and those of the other ambassadors, and see that there is hope.
"I wanted to do it for women who are going through it because when you're going through it, all you can see are your physical changes and your emotional changes," she said. "I think it's good for them to see that there will be a day when you'll be back to you – it may be a different you, but you will get back to you. I think this will help give women strength."
For Manwar, whose cancer has since metastasized and is now considered terminal, giving back to her community has given her that strength to carry on. ?"Despite all my health issues, I still remain active in the community. I'm not working, but I keep busy with my Rotary work," she said, noting that, in mid-June, she received Rotary's Paul Harris Fellow Award.
"For me, Rotary is my medicine – it uplifts me, it gives me purpose, and I feel good making a difference in the lives of others."
Read More