Special Photoshoot for Breast Cancer Survivor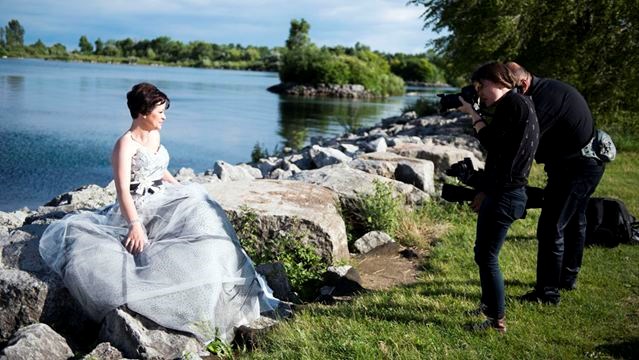 Breast cancer survivor Amanda Gingrich works with photographer Celia Moase in Humber Bay Park during after BREAST CANCER's SHE photo shoot on Wednesday. Twelve breast cancer survivors were selected to take part in the glamour event that included professional hair and makeup artists and photographers. - Photo/RICHARD BARCLAY
Elizabeth Johnson battled breast cancer with the same positivity and passion with which she lives her life.
"It was completely shocking," the Islington Avenue and Dundas Street West woman said of her diagnosis two years ago. "I thought, 'Did I have too many Diet Cokes?' I don't drink. I don't smoke. I'm fairly active. What did I do?"
Her perspective changed when she arrived at Princess Margaret Hospital in downtown Toronto for her first radiation treatment — surrounded by children awaiting theirs.
"I know that five-year-old boy wouldn't have done anything to get cancer. That was the turning point for me. I told myself, 'Stop blaming yourself.'"
Johnson related her journey with breast cancer to a reporter last week while a professional stylist curled her long, brunette locks into ringlets during registered charity after BREAST CANCER's first SHE event in the Explorer at Waterview condominium, a stone's throw from the lake.
The after BREAST CANCER (ABC) program provides women in need with breast prostheses and special pocketed bras to fit prostheses at no cost.
Across Ontario, breast cancer is the most frequently diagnosed cancer in women. This year, an estimated 9,500 Ontario women will be diagnosed with breast cancer, the Canadian Cancer Society estimated. Five-year breast cancer survival rates for Ontario women have increased to 87 percent from 81 percent in the mid-1990s, Cancer Care Ontario reported.
ABC's premiere SHE event gives 12 breast cancer survivors the charity calls "ambassadors" an opportunity to share their stories and to enjoy a day of looking and feeling beautiful. Professional hair and makeup stylists came courtesy of Beauty Concept by Shirley Wu, with clothing provided by Dale Hodder, CEO, and director of Style of Shut Up and Dress Me.
Twelve professional female photographers then shot the women striking a pose.
Celebrity judges including CityTV News' Cynthia Mulligan, CP24's Patricia Jaggernauth, former CTV Toronto anchor Christine Bentley, Global News' Angie Seth, Fas magazine's editor-in-chief Shellina Ebrahim, Fusia magazine's founder and editorial director Meera Solanki, and OMNI TV's Bollywood Boulevard host Veronica Chail will then choose the top photo.
The photo of that breast cancer ambassador will then be included in a calendar showcasing 12 strong and beautiful women after BREAST CANCER.
"This is an amazing opportunity. I couldn't be more thrilled," Johnson said amid the bustle of activity in the condo's party room. "I'm trusting the process. They choose this hot-pink dress for me. Wow. I know it's going to be awesome. Alicia has great taste."
Alicia Vianga founded ABC to fill an unmet need.
The south Etobicoke resident, entrepreneur, and owner of Premier Jour Fine Lingerie & Swimwear on St. Clair Avenue West in Little Italy had encountered a growing number of women who'd had lumpectomies or mastectomies following a breast cancer diagnosis coming in for a professional bra fitting — without breast prostheses.
"You hear those words: 'You have breast cancer.' These women would come into the boutique not being able to afford a prosthesis. It breaks your heart. One woman had worn nothing for more than 12 years. One woman was using a sock stuffed in her bra. Some women never go back to work."
One woman, a corporate executive, told Vianga when she asked her doctor where she could purchase a prosthesis, he replied: 'Look in the Yellow Pages.'
"It took her five years to get fitted," Vianga recalled. "The first time, she was searching in the back of a warehouse. I had another woman sitting in my change room, weeping. 'How will my husband react? Will he leave me? Will, he still love me?'"
ABC hosts an annual fundraiser to provide women without insurance or who cannot afford breast prostheses three specially pocketed bras a year and a new breast prosthesis or prostheses every two years.
Vianga has also partnered with the University Health Network and Princess Margaret Hospital on a breast cancer prostheses guide.
Once a month, Vianga does bra and prostheses fittings and workshops with breast cancer survivors at three Wellspring cancer support centers, and at Gilda's Club. Named after comedian Gilda Radner who died of ovarian cancer in 1989, Gilda's Club offers a range of free networking and support groups, educational and therapeutic workshops, recreational and social activities to anyone touched by cancer.
Johnson was chosen for the SHE event through Gilda's Club. She said she was determined to breast cancer would not change her.
"I have an awesome life," she said. "I have an awesome job, awesome friends, awesome family, an awesome partner. They say everything falls apart after a diagnosis of breast cancer. Because I love my life and I love the people in my life so much, I try not to make a big deal of it. So many thousands of women have been diagnosed with breast cancer."
After a two-year regimen of "fat pills" as she calls them, or Tamoxifen, the most commonly used hormone therapy to treat breast cancer according to WebMD, Johnson will soon take a new drug, known to weaken her bones. She is already dosing up on Vitamin D daily to bolster her bone strength against the new medication.
"Every day is a wonderful day. I'm just so thankful to be alive. You can't worry about the possibility of some stray cancer cell floating around. Having breast cancer doesn't mean my life will be shortened."
Vianga said she believes her charity is her life's calling.
"We are all sent here for a reason. This is why I believe I am here. It's such a pleasure to be able to give this kind of gift. It is a gift from God.
"It's all about making them feel special. They've been through a lot in life."
Read More