2018 Mother's Day Contest - Rachel's Story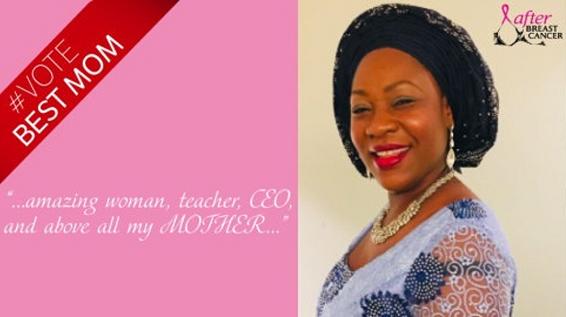 My name is Atekha Aimurie. I am 14 years old. I chose to enter this contest to let everyone know all about this amazing woman, teacher, friend, CEO and above all my MOTHER, also known as Queen mama Rachel.
Mother's day is a time meant to celebrate mothers and their greatness.
Everyone has or once had a mother, however, I am letting the world know that my mother is unique. Unique because of the bond we share in love and the unending sacrifices.
My mother is an amazing woman that provides for me, she always made sure I'm well put together in every way imaginable whether it is asking me to be courteous and respectful to others. She has had a lot of influence on what I have become in my short life, and God willing her positive influence will continue to shape my future.
My mom has taught me lots of things notably the culinary art of cooking because Queen mama taught loves cooking and feeding others around her. Mother always makes sure that there is cooked food at home. She always says that the way to a man's heart is food, but in my case is the opposite is true, the ways to a woman heart is a man who can cook. My mom also teaches me how to be a good husband and a good father. What I admire most about mom is how strong and hardworking she is; she works and goes to school full time. They say a mother's greatest gift is her child but to me, my greatest gift is not some materialistic item that can easily be bought, my greatest gift is my mother.
As mother and child, there's no bond that can break our connection even on our bad days. She sacrifices a lot for me. As an example, my school is 1 hour and 15 minutes, my mom still commits to driving me to school most of the time even with her busy schedule. When it comes to my education, she does not compromise which is why I am attending a school that is far away from home.
As I mentioned previously how a child's greatest gift is their mother, well to me it's different the greatest gift to me was for my grandmother giving me her greatest gift of all.
Mothers days is always a special day for me because I have the privilege to spend and support my mother as she reflects on her own mother.
Mother's day is a remarkable day in our house because that is when my grandmother passed on to the great beyond. It is an emotional time for my mother, however, I see how sad my mom is on mother's day, this mother's day I want to make it very special for her, I want to win the contest so I can show her how much I love her, because this mother day is the exact day my grandmother passed away.
Mother's day is a day to hang out with my Queen mother, and a time to let her know how much I appreciate all her help. Mom, I love you and want to thank you for bringing me to this world.
Read More