Support our S|HE is BEAUTIFUL, We Care Campaign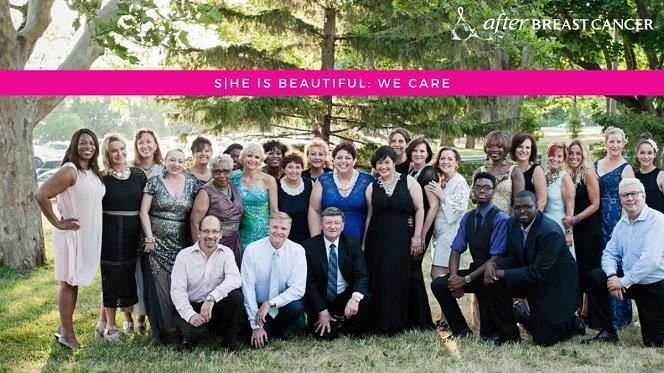 In response to the urgent care needs of breast cancer graduates exacerbated by COVID-19, after BREAST CANCER presents the "S|HE is BEAUTIFUL, We Care" initiative. This initiative will raise money to provide post-surgery support kits, nutritious food, and household items to low-income, uninsured breast cancer graduates.
---
Our Breast Cancer Graduate Story is Your Story…
After surgery, I had no idea how I was going to purchase the bras and prostheses needed to continue my healing process from stage 3 lobular breast cancer. I had no income, no insurance, and a diminished self-image and feared hurting my chest bone. A few months after my surgery, after many frustrating calls and hearing how expensive bras and a prosthesis are, I finally found help from after BREAST CANCER, a charity that could help me get bras and a prosthesis at NO COST to me!

Sadly, many women were and are like me: unable to afford the very basic items a breast cancer patient needs post-operatively. And now, at a time of tighter financial constraints due to COVID-19, a time where more people are in need, we need you. We need help to keep assisting women battling this horrible disease secure the materials required as part of the healing process.

Jennifer, after BREAST CANCER Graduate
Breast Cancer Graduates Need Our Help More Than Ever
Surviving breast cancer takes a lot out of a woman, physically, emotionally, and financially. Sadly, many breast cancel graduates often cannot afford the products and services essential to their recovery. Our charity works to empower breast cancer graduates who cannot meet their basic needs after a mastectomy or lumpectomy surgery by offering them ABC CARE KIT!s at NO PERSONAL COST.
COVID-19 has highlighted as well as heightened the barriers faced by low-income breast cancer graduates to access the products and services needed in their healing journey. To make matters worse, many graduates are currently struggling to afford the bare necessities like basic groceries.
Therefore, the demand for our breast cancer care kits has increased exponentially. During March and April 2020, requests for the breast cancer care kits distributed by our ABC CARE KIT! program surged 85% over the same period last year.
It's been challenging to meet this increasing demand. Our charity, like many others, is facing a funding shortage as many of our donors have suspended or reduced their giving programs for the year. While donations continue to wane during the pandemic, the needs of breast cancer survivors and other vulnerable groups do not. In fact, they increase!
At the moment, we have already exhausted our reserve of ABC CARE KITS!
WHAT WE WANT TO DO: Making a difference one breast cancer graduate at a time
Our goal is to raise $25,000 CAD to provide 100 low-income women in Ontario with our ABC Care KIT! We want to help breast cancer graduates from underrepresented and underserved groups by giving them resources that improve their quality of life.
Included in each ABC Care KIT! are the following items:
Two temporary breast prostheses
Two drainage pockets
A mastectomy camisole
A front closure mastectomy bra
A seatbelt pillow
Handmade Mask
Handmade cap and blanket
An instructional guide covering bra and breast prosthesis fitting
encouraging messages from our Ambassadors who have championed breast cancer
**Plus**
For the duration of the Coronavirus pandemic, we will be adding a grocery store gift card, worth $50, to each ABC CARE KIT! purchased with funds raised for the "S|HE is BEAUTIFUL, We Care" initiative
Without your donation, the women on our waiting list will go without the products they need. Let's support breast cancer graduates when they are physically and emotionally vulnerable.
Let's tell her that she is beautiful and that we always care.
"If the after BREAST CANCER Program didn't exist, I would be still stuffing my old bras with anything I could find and hoping that it matched close enough for others not to notice. Thank you for everything you do to help women like me!"

Elizabeth Johnson, after BREAST CANCER Graduate

Sharing is also CARING. To help get the word out, please tell others about our cause on social media. Our hashtags are #AfterBreastCancer and #SheThrives.

Thanks in advance for your contribution to this campaign!
Support our S|He is beautiful: We Care Campaign
Read More