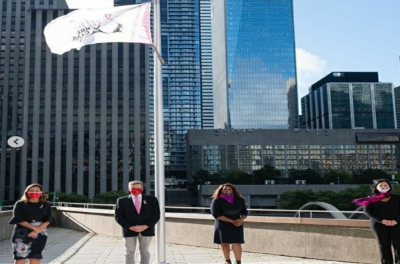 LIFTING THE after BREAST CANCER ABC FLAG IN TORONTO
The breast cancer awareness month kicked off today. In Toronto, the date was marked with a ceremony at the City Council, which was attended by the Portuguese-Canadian councilor and vice mayor, Ana Bailão, the mayor, John Tory, and representatives of the after BREAST CANCERABC Institution.
The month of breast cancer awareness, traditionally celebrated in October, kicked off with a special ceremony in Toronto. The non-profit institution, after BREAST CANCER ABC, organized a ceremony to raise its flag at the Toronto City Council. The celebration was attended by Mayor John Tory, who highlighted the traumas faced by cancer patients.
The mayor handed the representatives of after BREAST CANCER ABC the official document proclaiming October as a month of awareness of breast cancer and flying the institution's flag.
Also present at the ceremony, the vice-president of the Chamber, the Portuguese-Canadian Ana Bailão presented information and statistics on the disease in Canada: today, one in every group of eight Canadian women may develop breast cancer. Bailão also highlighted in his speech the importance of early diagnosis and support for survivors.
after BREAST CANCER, ABC was created in 2013 and helps cancer survivors with their basic needs after healing. Founded by Alícia Vianga, it provides underwear and prostheses for women who have undergone mastectomy and cannot afford to buy these accessories. Alícia pointed out that in times of pandemic, patients and survivors need even more support and support since the loneliness imposed by isolation makes full recovery difficult.
Read More