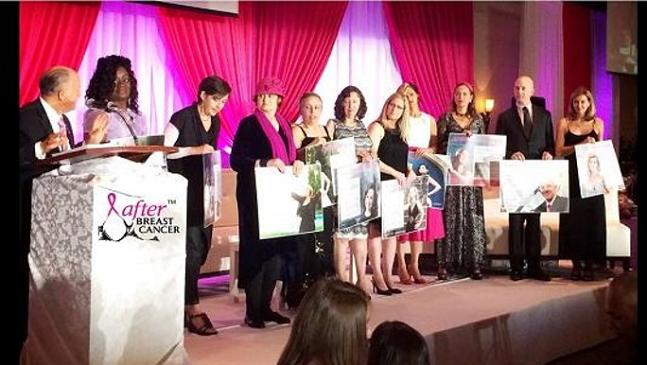 The Pink Diamond Gala – there's a reason it is called the City's most Stylish Event in support of after BREAST CANCER. This year's gala was certainly, without a doubt, the best one yet! On September 27th, over 500 people came out to the Riviera Parque Dining, Banquet & Convention Center in support of after BREAST CANCER. Upon arrival, guests were immediately welcomed into a stunning venue. A cascading water feature from the top floor, extraordinary flower arrangements and a sea of gift bags – after all, every guest went home with a special gift bag. Prior to the event, guests were able to purchase the brand new 2016 S/HE Thrives calendar, which was personally signed by a long table of celebrities Ambassadors. The lineup for the calendars was long and we sold out!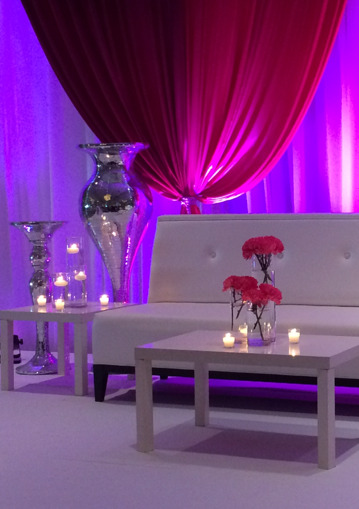 In the side hall, guests were able to check out the items in the silent auction and place their bids. To sweeten the deal, Candy Couture Events & Co. had a custom sweets table. This hall lead into the grand ballroom, draped in after BREAST CANCER's signature fuscia color. Tall decorative elements covered in shiny gems sparkled and framed the white couches on the stage. The live band, Tony Silvani Orchestra, played music and set the tone for the afternoon.
Once seated, guests enjoyed a three course meal with wine which included an appetizer of salad and fusilli in a Primavera Sauce with asparagus, mushrooms, eggplant and zucchini. The entree followed with a choice of Cornish hen stuffed with wild rice and mushrooms in a white wine sauce or grilled atlantic salmon in beurre rouge. For dessert, guests ate a decadent chocolate dipped crepe topped with berries in a grand marnier sauce.
Guests enjoyed a video featuring the 2016 S/HE Thrives Ambassadors, a video call from Bill Carroll, words from MPP, Hon. Julian Fantino and Cristina Martins, a thrilling Live Auction of incredible merchandise, a panel of speakers led by Christine Bentley and a raffle.
The Pink Diamond Gala was a huge success! Guests enjoyed a warm ambience, fantastic food, music and a great program. We loved seeing the smiles on everyone's faces. Thank you to everyone who came out to support this fantastic event!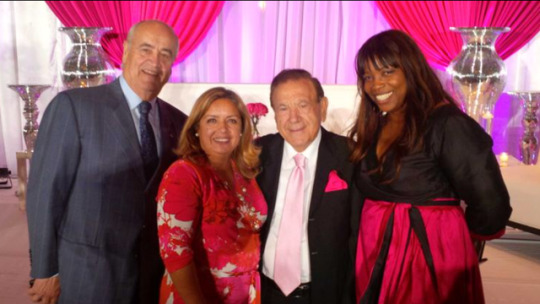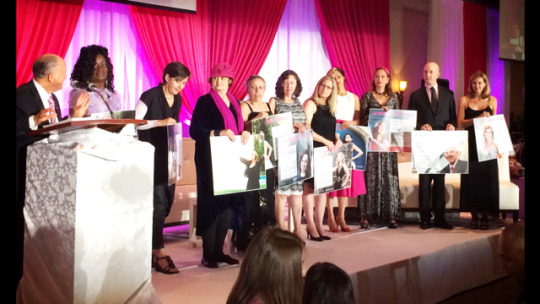 A special thanks to our Sponsors and Volunteers – without you, we would not be possible:
Presenting Sponsors
Liuna local
183, Premier Jour
Diamond Sponsor
Royal Bank
of Canada, Masters Insurance
Gold
Runnymede Healthcare Centre, Bondfield
Construction Inc, Bank of Montreal, Dr. Marla Ash & Murray
Silverberg, Nottawasaga Resort, Invesco
Silver Sponsor
Drywall Acoustic Lighting & Insulations , Emery
Village BIA
Bronze Sponsor
Liuna Local 506, The Cristina Ciccolini Fund, Cortel
Group, First Global Rewards, Global Bioenergy Resources, Highshare Northwest
Luxury Development Group/ Big Ticket Rewards, Sheldon & Viviane Silverberg,
Berry and Eleanor Appleby
Media Sponsor
CHIN Radio, AM640
Gift Bag Sponsor
Vasanti Cosmetics, Florence Scovel Jewelry, Sannse
Clothing, Premier Jour, SKETCHERS Canada
Decor
Dream Party Decor & Ital Florist Limited
Read More