SKECHERS Canada in support of after BREAST CANCER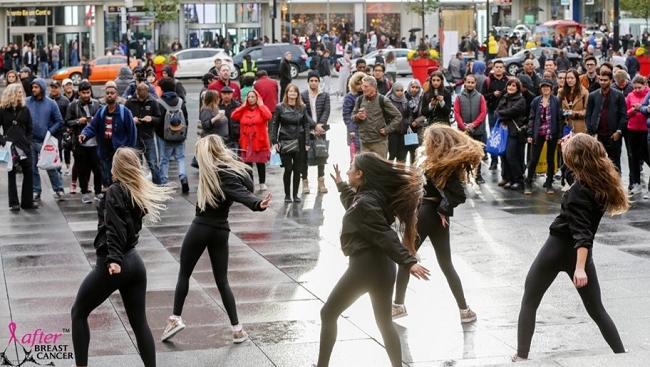 WHO: SKECHERS Canada and after BREAST CANCER partner to support Breast Cancer Awareness Month with a Just Dance party in Yonge-Dundas Square on Saturday, October 28. The public event will help raise awareness and funds to support after BREAST CANCER, a charity focused on giving men and women the necessities to move forward after surviving their illness.
WHAT: SKECHERS Canada invites downtown Toronto to dance the night away while showing their support for after BREAST CANCER. Entertainment will be provided by SKECHERS Canada and will include big screens, Wii consoles and prizes, and a cozy lounge featuring performances throughout the evening – including an appearance from Monica Gold and her Find Your Fierce dance crew. Shopper's Drug Mart will offer breast cancer awareness and makeup activations. after BREAST CANCER will also host a lounge that provides informative assets to those who would like to know how they can further help the cause.
WHEN: Saturday, October 28
4:00 PM – 8:00 PM
MEDIA CALL: 5:00 PM
WHERE: Yonge-Dundas Square
1 Dundas St. East
Toronto, ON M5B 2R8
ON-SITE CONTACTS:
SKECHERS: Katelyn Hodgson, (647) 505-9520 / katelynh@skechers.com
After Breast Cancer: Alicia Vianga, (416) 560-3835 / abcprogram1@gmail.com

REQUEST PRESS PHOTOS AND B-ROLL VIDEO FROM:
SKECHERS: Katelyn Hodgson, (647) 505-9520 / katelynh@skechers.com
CONNECT ON SOCIAL:
Event Hashtag: #SKECHERSLightUpTheNight
SKECHERS: Instagram: @skechers.canada | Twitter: @skechers_canada | Facebook: @SKECHERSCanada
after BREAST CANCER Instagram:@afterbreastcancer | Twitter: @ABC_program_ | Facebook: @After Breast Cancer
Read More