Earlier this year I was nominated to become one of 12 Ambassadors for this great cause "after BREAST CANCER (ABC)" a Canadian-wide Charity, which is a much-needed service in more communities across our wonderful country. Having gone through chemotherapy, then a mastectomy and then radiation, I, along with many women, are at a loss once their treatments are over and there is little support available to them on how to deal with the changes that they have experienced from their treatments, both physically and mentally.
On July 11th after BREAST CANCER had a graduates reception which was held after the photoshoot for their upcoming 2018 S|HE Thrives calendar. Many professional volunteers, such as make-up artists, hairstylists, photographers, boutiques, and designers/couturiers transformed 12 graduates into real beauties. These volunteers made all of us...feel like women again! We had a fabulous time and realized that we were not alone...we shared our journeys...laughed and cried happy tears together. I am looking forward to seeing them all again at the Pink Diamond Gala in September.
On September 24th after BREAST CANCER will be holding a luncheon, the Pink Diamond Gala, at The Riviera Parque Dining Banquet, 2800 Hwy #7 W. Vaughan, ON, L4K 1W8, where the 2018 S/HE Thrives calendars will be revealed. We would love you to join us along with your family and friends to help us celebrate! Your support would be appreciated...to attend, make a donation or learn more about ABC, kindly check out their website located below. Even more important...if you know of anyone who may require or need assistance please let them know that help is available after breast cancer.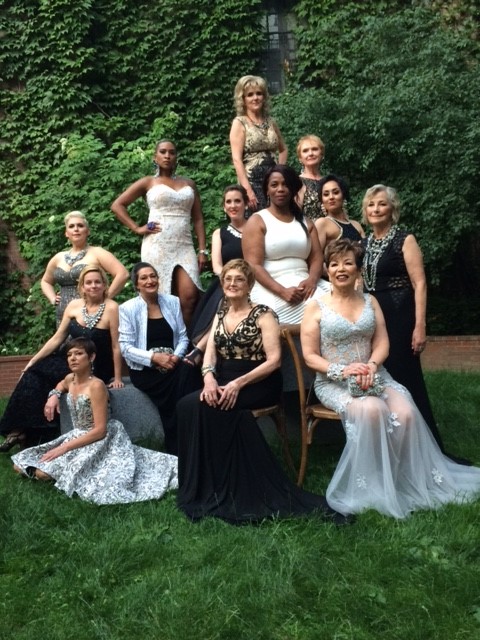 For digital stills and/or interviews with the myself, ABC Founder Alicia Vianga, Photographers, Stylists and Sponsors, contact: Alicia Vianga 416-560-3835
For more information about after BREAST CANCER, S|HE Thrives, visit http://afterbreastcancer.ca/ Social Media Tags: #AfterBreastCancer #SHEThrives
---
ABOUT S|HE THRIVES
On Tuesday, July 11, 2017 in Toronto's Fashion District the after Breast Cancer S|HE Thrives now in its fourth year provided a platform for ambassadors to overcome adversity, and a beacon of hope for those who are currently battling the disease. ABC helps survivors, or as we like to call them, 'graduates', begin the healing process, regain their dignity, footing and femininity in the aftermath of breast cancer.
The signature after Breast Cancer event shines the spotlight on 12 inspiring Graduates selected as official after Breast Cancer ambassadors who will be featured in after Breast Cancer's 2018 Calendar available for purchase benefiting ABC. "These graduates are powerful, their stories will move and motivate you, cancer may have taken their breast, cancer may have taken their self-esteem, but cancer does not define who they are" said Alicia Vianga, Founder of after Breast Cancer. "Breast cancer knows no age, race, life eminence, colour or sex; whether a young mother, accomplished business women, a nurse, an actor, a teacher or a father, breast cancer does not discriminate."
This year's courageous 12 breast cancer ambassadors include Karen Alexander, Laurel Dougerhty, Nadia Santiago, Sita, Kathleen Mc Donell, Deborah Peniuk, Lyssa Statham, Jennifer Schultz, Joanna Chrystal, Glenda Mohammed, Joyce Perrin and Natalie Wilson.
The S|HE project is about giving our Ambassadors an experience they will remember forever. Ambassadors enjoyed a day of being pampered, styled and beautified, then clicked by Toronto's top photographers, followed by the Graduation Reception and the big reveal of the ambassadors to family, friends and guests.
---
ABOUT after BREAST CANCER
after Breast Cancer is a Canada wide charity dedicated to supporting and celebrating those affected by breast cancer. Most people believe that surviving breast cancer treatment is the end of the battle, but in fact, it is the beginning of the healing journey. After treatment, breast cancer graduates face numerous physical, emotional, and financial challenges. Countless women struggle to re-establish themselves in the workforce, manage chronic health issues resulting from treatment, instate new healthy lifestyle habits, overcome depression, and become reacquainted with their new bodies.
RESEARCH AND DEVELOPMENT: To identify under-served areas in breast cancer survivorship that lack resources and provide evidence based information that can facilitate informed decision making on issues related to breast cancer survivorship.
DIRECT SUPPORT: To provide women who have no insurance and limited financial resources with mastectomy bras, camisoles and breast prostheses at NO COST to them after breast removal surgery (mastectomy or lumpectomy).
SUPPORT FOR THE FUTURE: To provide resources that contribute to a woman's Quality of Life (QOL) after breast cancer.
Read More